Since you started reading this blog, you must be interested in looking for various friend photoshoot ideas to commemorate your relationship with your closest friends.
From childhood to your senior years, friendship is one of those relationships with the greatest meaning in your life. Friends are there for all your big and small moments, and their presence makes it even more special. Thus, capturing some memorable moments with these life-long partners in crime and cataloging them can show you the life you have led so far.
It is important to cherish these wonderful people you call your friends. So, here we have some stunning best friend photoshoot ideas you can choose from for your next get-together! So, read along and find out!
Receive professional portrait retouching services for about $1.00 per photo.
Friend Photoshoot Ideas – The Reasons
When you are with a friend or two, you do not need any reason to make some memories that you will cherish for the rest of your life. However, capturing these memories and being nostalgic about them down the road can be something very special.
There can be memories that just a few of you share, and you can remember those authentic memories by capturing them in some photos. However, with age, your memory eventually starts fading. Thus, having something to jog your memory will always be appreciated.
Furthermore, imagine you have a friend migrating to another country. You can use cute best friend photoshoot ideas to develop an album or frame a special moment and give them as a souvenir they can use to remember you.
Another way you can use photo ideas for friends is to celebrate different occasions or milestones. It makes it extra special when you capture those memories amongst loved ones. And friends are always those loved ones who are there throughout your journey through life.
Guide to Maternity Photoshoot | Pregnancy Photoshoot Poses Ideas to Capture Love
Friend Photoshoot Ideas – For Different Occasions
Different occasions always call for taking tons of pictures with your best buddies and a have a blast together. So, here are some photo ideas for friends that you can take for different occasions:
Learn more about The Ultimate Guide to Captivating Couple Poses: Unleash the Magic of Love
Idea #1 Dressed Up for Prom/Graduation
Dressing up in fancy dresses and displaying your best self can make up for a perfect opportunity to get your squad together for some glam session. So, show off your those suits and gowns and look splendid together. Stand in front of the Graduation podium or the Prom stage. Arms around each other and grinning at the camera.
Another excellent pose for graduation is throwing the cap up in the air and capturing all your friends' expressions. All of your friends can even pose with your rolled-up certificates in hand.
Idea #2 At a Birthday Bash
Another occasion to get the whole squad together for a photoshoot session is during a birthday party. Thus, making them feel special and letting them know you appreciate them. Pose behind the cake and make some silly faces. Or stand in freestyle poses. Or you can even use balloons as props. Moreover, you can even shower your group with confetti and capture their excitement.
You can even take a one-on-one session with them in some best-friend poses. Furthermore, you can be their photographer and take their solo pictures.
Idea #3 Wedding Day Photoshoot
Another occasion you can consider for a cute best friend photoshoot is during their wedding day. You can have the bridesmaid pose with the bride in the church's front yard or at the reception. Moreover, you can even take momentous photos during the pre-wedding preparations. 
One of the cutest moments to take a photo with your best friend is while doing her make-up. These moments are filled with emotions that make for some amazing photos with your friends. 
Idea #4 Meeting at Reunions
Meeting your best friends after a while can be one of the happiest moments. So, capturing all this joy and happiness with a photo shoot with them goes a long way. Hence, capture the moment, as you never know when the next time may be.
Check out Ugly Wedding Rings: Embracing Unconventional Beauty
Idea #5 Halloween Costume Dress Up
You can choose a theme for your Halloween costume with your friends and pose with each other for your friend photoshoot. For example, you can dress up in superhero costumes. Moreover, you can each pose your respective superhero's iconic poses. It's a fun and exciting way to capture unique moments with your closest pals.
Friend Photoshoot Ideas – For Indoor Chillouts
You do not need to participate in several activities or attend different events and occasions to capture some photos with your closest friends. You can even capture some exceptional moments from the comfort of your home. Moreover, you can even have a blast indoors with your best pals around you. Here are some best friend photoshoot ideas that you can try for your indoor chillouts:
Find out more Incredible Graduation Photoshoot Ideas and Poses
Idea #6 While Pillow Fighting
No matter how old you get, a child is always living inside you, and that childish side of you is comfortable coming out with your best friends. Therefore, capture child-like excitement and energy with your best friends in a pillow fight.
These moments make for some fantastic freestyle pictures due to the randomness of pillow fights. Moreover, the flying feathers make for dynamic shots for your friend's photoshoot.
Idea #7 At a Pajama Party
Have a lazy day indoors with a bunch of friends staying over at a pajama party. Nothing shows that you are close friends than having a stayover for a pajama party. Wearing matching pajamas is just one of the perks of being best friends.
Carry out a cute best friend photoshoot and capture the carefree moments of having a pajama party. Be in your element and do some crazy things together that only best friends can come up together, and keep snapping everything together.
Read more about Mom And Son Photoshoot Ideas
Idea #8 During your Video Game/ Board Game Sessions
Another wonderful moment to capture some exhilarating emotions among your friends is during a game session. When you are in a position to win over your friends in a game session, there are so many different emotions taking place. These make for some lively shots for your photo ideas for friends.
See: Become an Expert in Car Photography with Our Comprehensive Guide
Idea #9 On the Rooftop of Your Building
Get some throw pillows and a rug, and get a music session going on. Jamming with your friends makes for such a relaxing and comforting moment. Or lie down and star gaze together. Or get the telescope out on the roof and look at the moon. All these make for some quality moments to snap a few shots with your friends and engrave that moment forever.
Check out the Top 17 Photoshoot Themes For 2023
Idea #10 Hanging in Your Favorite Cafe
Have a one-on-one date for a photo session with your best friend. It is a fun way to get creative with your best friend in your favorite cafe. Incorporate the vibe and ambiance of the cafe in your bestie photoshoot. Enjoy some dessert and share a conversation while capturing some smiles and laughter.
Check out Creative 11 Wedding Photography Tips For Professionals
Idea #11 It's Pizza Time!
Get some food into your tummies and laughter on your faces at your weekend pizza party with our best bubbies. Gather around the table, take a slice of pizza each, and cheer them for unique bestie poses with friends. Looking back, these make for one of the fondest moments with your best friends.
Read more about 21st Birthday Photoshoot Ideas
Idea #12 Feet Up on Bed Pose
Another cute best friend photoshoot idea is to get in bed together and cross your feet up against the wall. Have a one-on-one stay-over or your entire squad together, get comfortable in your bed, and bring out your childish imagination to take fun photos with your best friends. You can only achieve this kind of comfort with your best friends.
View more Sweet 16 Photoshoot Ideas
Idea #13 Baking it Out Together
If you and your best friend are into baking, this makes for another opportunity to get some snaps with your bestie. You can even goof around together and smear some chocolate on each other's faces. Have something sweet and capture your sweet moments with them.
Read more about How To Photoshop A Picture? [10 Steps]
Idea #14 Bookworms United!
Sharing similar interest always make for the perfect chance to do a best friend photoshoot. Have a one-on-one date with your bookworm buddy. Set the lighting perfect for reading and cozy up with a good book. While at it, take some beautiful pictures of the two of you together. You can even dress for the occasion by using props like spectacles!
Check out 9 Tips How To Take Pictures For Modeling Agencies
Idea #15 Building a Pillow Fort
No matter how old you get, building forts is always fun. Get in some bestie poses with friends while making an indestructible pillow fort. You can even get nostalgic together about building forts while you were a child. Moreover, you can take some spectacular shots together after setting the ambiance inside your fort.
View more Unique 19 Product Photography Props For 2023
Friend Photoshoot Ideas – For Outdoor Adventures
Adventures outdoors are always the time to take some stunning, candid, or goofy photos in action with your partners in crime. With beautiful landscapes and different natural lighting, you can truly capture mesmerizing photos with your friends. Here are some best friend photoshoot ideas for your outdoor adventures:
Guide to Artistic Yoga Photography
Idea #16 Watching the Sunset
Watching the mesmerizing sunset over the horizon can be a calming and peaceful experience made even better with the presence of your closest friends. Be it on top of a mountain or at the beach, use the Golden Hour to have a sun-kissed photoshoot with your squad. It is the perfect time to take stunning photos using the diffused natural glow from the sun.
Check out Boudoir Photography Ideas
Idea #17 Day at the Beach
A day out at the beach is splendid if you are looking for a fun outdoor activity with your best friends. Drive out to the beach, wear your beachwear, and soak in some sun. You can play with the sand, bury one of your friends and make a sculpture, or build a sand castle with them. Use this occasion to take photos with your best friends and commemorate the moment.
Idea #18 Chilling in the Pool
If you are too lazy to drive out to the beach but want to soak yourself in the water, the swimming pool is the ideal place for that. Get some floaties and float around on the pool or soak your feet in and have some mimosas. Listen to some music while playing water volleyball.
There is plenty you can think of doing with your friends. Remember to get some pictures in and engrave the memory forever.
Learn more about Top 10 Photographer Tips To Advance Your Skills
Idea #19 Laying on a Road Less Traveled
Take the car out, pick your friends up, and go on a long drive. Park by a road that has fewer visitors. Getting the panic and exhilaration from lying on a road that can have oncoming traffic gets the blood flowing and makes for some stupidly fun time to take pictures of your friends being silly.
Find out more about The key secrets to shoe photography
Idea #20 Your Secret Hangout Spot
One way to show how special a friend is to you is by taking them to your secret hangout place. It could be your special spot in the park where you spend some alone time thinking, or it could be on top of a hill overlooking the city and the traffic.
Take them to your hideout spot savor your time with them and use that opportunity to hold a best friend photoshoot session.
Find out more Explore the Exciting World of Flat Lay Clothing Photography
Idea #21 On a Hiking Trail
Take a day off your busy schedule and put on hiking boots. Take your friends to a nearby trail to spend some adventurous time with them. You can get some exercise in and use the scenic natural backdrop to hold a photoshoot with your best friends.
Read more about Amazon Product Photography and the Tips to Take Them
Idea #22 The Mid-Air Freeze Frame
One of the most exciting friend photoshoot ideas involves taking a shot of your squad mid-air. You can jump up at the beach or jump into the pool. Or ask them to jump up randomly in the park. Synchronize your jumps, throw some freestyle poses, and take a freeze-frame photoshoot of your friends with all their excited and happy faces.
Idea #23 Walking Down the Railway Track
Walking down the railway tracks makes for one of the most popular best friend photoshoot ideas. Holding hands and balancing each other out makes for a very symbolic picture, as your best friends have the same role in your life. They bring some balance to your life and keep you up when you are having a low moment.
Check out How To Edit Waterfall Photos
Idea #24 During Your Sports Session
If you play in a softball league with your best buds or any other sports, you can use this chance to capture images of your friends in some extreme actions. This photo idea for friends can help to re-live the energy you have in your youth as you grow older.
Check out How Jewelry Photography Can Make You Happy
Idea #25 Rolling with a Shopping Cart
If you need a bit of craziness for your best friend's photoshoot ideas, consider pushing your friend in a shopping cart in a parking lot or down the street. You can each take turns in being the passenger. It makes for some dynamic, lively shots with your best friend. Capture some fooling around and laughter with this photo idea for friends.
Guide to 15 Real Estate Photography Tips For Beginners to Know
Friend Photoshoot Ideas – For Completely Random Moments
Now there will always be some unplanned moments in life that turn out to be the best experiences of your life. These out-of-the-blue plans make for some unique photoshoot ideas for friends. Here are some photo ideas for friends that you can take for completely random moments:
Idea #26 Face Painting
Face Painting is one of those activities that is a lot of fun to do with your best friend. Plus, painting on your face is something you can easily trust your best friend with. You can even be silly with each other and paint something funny and take photos together in bestie poses.
See: How To Do Color Correction In Photoshop? [Best 2 Proven Methods]
Idea #27 Wearing your Favorite Sports Team Jerseys
This option is another occasion to capture some bestie poses with friends where all of you are wearing your favorite sports team jersey and watching a match together at home or the stadium. Whatever your setting, you can capture meaningful snaps of everyone's reactions. It makes for a lively scenario to capture the wonderful time spent with friends.
Learn more about How To Remove a Background in Photoshop Quickly & Easily
Idea #28 Take a Group Selfie
It does not matter where you are or what occasion it is. You can take your phone out, capture a group selfie with our squad, and commemorate the moment spent together. Whether at a dinner party or a baby shower, group selfies are always an option for you.
Receive professional photo restoration service for about $4.00 per photo.
Idea #29 Twinning
You can decide to have a day out for strolling or shopping or visit your local cafe; you and your best friend can wear matching outfits and carry out a cute best friend photoshoot at every location you visit. It is a fun and cute way to display your love and affection for each other.
Receive professional photo color correction service for about $4.00 per photo.
Idea #30 Giving Piggyback Rides
Only with your best friend will you have the level of comfort to give them a piggyback ride. It shows the closeness you have and the trust that you will always hold each other up through any situation in life.
It can be a lot of fun, and the location does not matter. Jump onto your friend's back and capture all the waves of laughter with this best friend photoshoot idea.
Check out How Easily You Can Make A Background Transparent in Photoshop
Idea #31 Get In Some Hugs!
Giving a hug to someone you love is one of the most intimate acts. You give them hugs when you meet them or when they are down and going through a tough time. It is caring, loving, and reassuring.
It is one of those acts that are so normal between best friends that not capturing this beautiful moment would be a crime. So, hug your best friends and capture some amazing pictures together.
Learn more about A Complete Tutorial for How to Resize an Image in Photoshop
Idea #32 Recreating F.R.I.E.N.D.S. Intro
Image Source: https://www.pinterest.com/pin/359091770301170048/
Everyone is aware of F.R.I.E.N.D.S. in some capacity or another. It is one of the most prominent pop culture references for love and friendship between a group of friends and what they mean to each other. Even with the ups and downs of life, they have each other.
It is also true for your squad, and you can show that by recreating the Intro for F.R.I.E.N.D.S. It will be an enjoyable experience while getting everyone to recreate all the poses from the show and capture some fun photos.
Read more about How to Deselect in Photoshop – The Ultimate Guide
Idea #33 Recreating Childhood Memories
Whether you are childhood best friends or became best friends later in life, you will have specific childhood memories that you cherish dearly. You can recreate these memories with your best friend, have an enjoyable experience while doing it, and have amazing best friend photos that you will cherish for the rest of your life.
Find out more How to Remove Watermark from Photo: A beginner's friendly Guideline
Idea #34 Blowing Up Some Bubbles
Bubbles make for some exciting props for your friend's photoshoot. It engages with your inner child and brings out the child-like excitement with your best friend. The unpredictable nature of how the bubbles move around can make for some fascinating pictures.
See: The How-to for Double Exposure in Photoshop Made Easy
Idea #35 One of Your Dance Sessions
Whenever there is some movement in your activity, it makes for a very energetic shot. You can break into a dance session anywhere and show off your free-spirited nature. Just put on your favorite jam and groove along with the beat with your best friend, and capture that entertaining moment.
Read more about Master Photoshop Color Replacement with these 3 Easy-to-Follow Techniques
Things To Consider in Your Friend Photoshoot Ideas
When you are taking a best friend photoshoot, there are certain things you can consider that can make up for some exceptionally stunning photos that you can be nostalgic about for years to come. Using these things can make your best friend's photos extraordinary. You can consider some of the things mentioned below for your friend's photoshoot: 
Read more about What Do Camera Gear Reviews Tell Us? [Everything You Must Know]
Take Some Candid Shots
Sometimes all you have to do is make your friends interact instead of making them pose in a certain way. The natural way friends interact with each other makes for some lovely photos for your friend photoshoot. If you prep your friends too much regarding a pose, they may become stiff, and the picture won't appear natural. So, try to shoot some candids.
Check Out A Complete Convoy Of 3 Point Slinger For Camera To Choose
Use Different Perspectives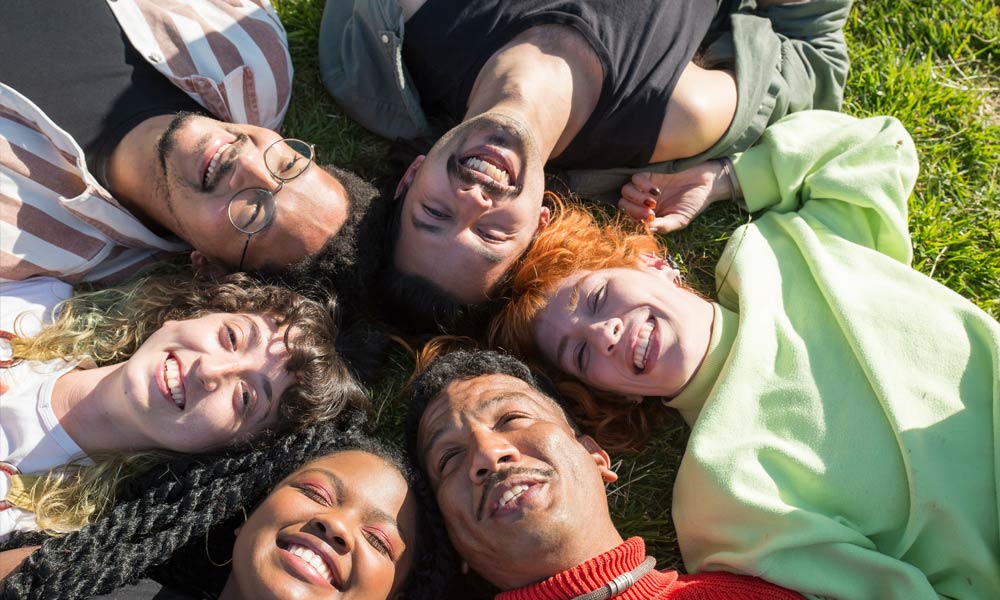 You want some unique photos of your friends. Try changing the perspective of the shots.
All your friends can huddle in a group and look down at the camera. A below shot of your friends' happy smiling faces can be a great perspective to capture.
Another one you can consider is taking an above shot. Stick out a selfie stick, stare at the camera with your grinning faces, and capture an image.
Changing the perspective now and then can keep the photoshoot fresh and exciting.
Capture Laughters
It is said that laughter is the best medicine. So, it is true even when you view photos of your friends laughing. It will be the reason for a smile on your face when you view them. So make sure to capture some laughing shots of your friends interacting. They make for some very authentic moments for your best friend photoshoot ideas. 
Use Props
Having some props makes your friend's photoshoot stand out even more. It is a fun way to make your friend excited about the photoshoot. Moreover, it can be very interactive for everyone when props are used.
You can consider anything from balloons to flowers or wearing Mickey ears at Disney World. Or it can be wine glasses raising for a toast or holding up a frame with all of you behind it. There are myriad ways you can introduce props into your shot, and they instantly elevate the nature of your photos.
Receive professional headshot retouching service for about $1.00 per photo.
Create Some Shapes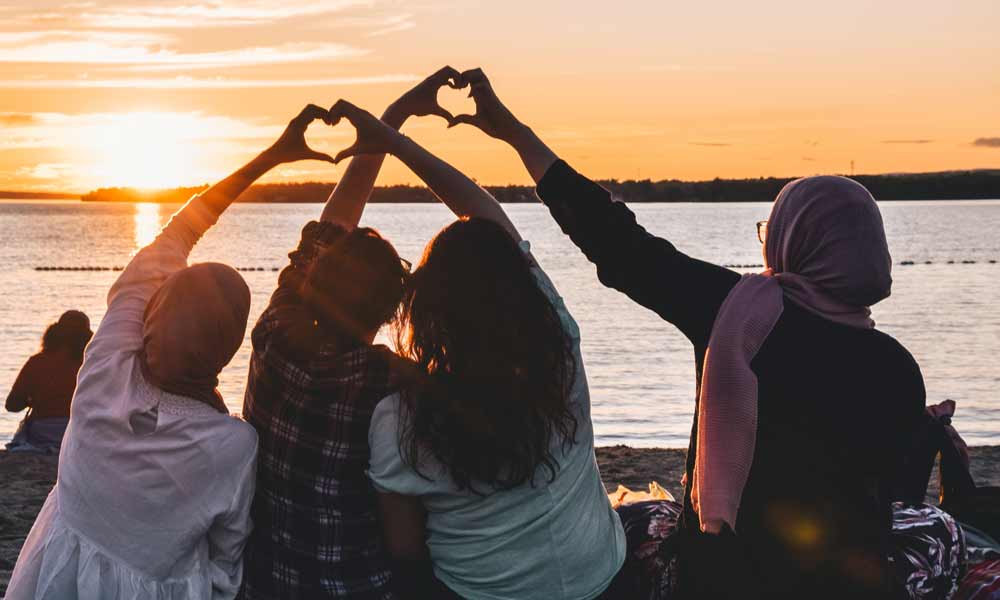 Creating shapes is another interactive way to make your bestie poses for friends creative and engaging.
Consider making the heart shape with your arms or fingers or even the star shape with your fingers. Or you could all lie down on the floor in a particular shape with the photo captured from the top.
Considering shapes in your photo ideas for friends can be a fun and unique way to make the photoshoot even more incredible.
Guide to Trendy Action Camera Protector And Cases For Professionals To Buy
Capture some Goofy-ness
Making silly faces or fooling around with another shows one of the most authentic essences of friendship. It is only with your closest friends you are comfortable knowing that even if you goof around and be silly, there will be no judgments. So, capture some goofy-ness and be silly with each other in your best friend photoshoot.
No-Face Shots
It is not always necessary to capture faces in your photo ideas for friends. You can capture some colorful, creative shots even without including faces.
You could consider everyone standing together in a circle and capturing your shoes or capturing the backs of your friends while they are facing away from the camera. Or it could be the silhouettes of all of your friends. There are many creative ways to capture images of your friends that do not involve their faces, making for some eye-catching photos.
Let's Wrap up! [Friend Photoshoot Ideas]
So here we are at the end of this blog for friend photoshoot ideas. I hope this comprehensive list of ideas for taking heartwarming snaps with your best friends will help you commemorate the bond all of you share.
Another thing you can consider is opting for a Photo Retouching Service provider to enhance your photos after the photoshoot to make your memories stand out even more.
So, now that you are well-versed in all that you can do regarding your best friend's photoshoot, get out there and create some magic!
Read Our Latest Articles-